With interior painting trends leaning away from more traditional colors and tones, black ceiling paint is quickly becoming all the rage. Gone are the days of boring, white ceilings. Homeowners are embracing big, bold, and going black. Your ceiling can be painted black to create a dramatic and unique space, helping architectural elements to pop, while adding elegance and charm to any room. 
Black has a reputation for making rooms feel gloomy and small. However, designers and homeowners alike are discovering the power this once misunderstood color can present. 
If you need to buy black ceiling paint and live in the Sacramento area, we recommend Sherwin Williams. That's who we partner with because their paint is long-lasting and of the best quality.
BEST INTERIOR PAINT COLORS FOR SELLING A HOUSE
Rooms With Black Ceilings 
Painting your ceiling black creates an eye-catching focal point of interior design and can single-handedly define your room's decorating style. Dark colors are impressive and glamorous. There seems to be an element of mystery and intrigue associated with black ceilings. The common prejudices about black paint that once existed among painters and interior decorators have gone the way of the wind. 
Other dark colors that have been adapted by designers for ceilings include graphite and charcoal gray, grays with a bluish hue, silver grays, and of course navy. Dark tones combined with bright white or other bold colors are a brave way to be creative and add personality. 
Black ceilings draw your eyes upward, giving the illusion that your walls may be taller than they appear. Tall ceilings are always a wow factor and are an extremely coveted selling point in the real estate world. People are more likely to remember a room as pleasing to the eye if it has high ceilings. When paired with lighter colors and designed properly, a black ceiling can actually make your room appear larger. 
How To Paint Basement Ceilings Black 
An unsightly basement ceiling isn't something you want to stare at for years to come. Many partially finished basement ceilings have pipes or ductwork that is left exposed. Nobody wants that as their interior decor. Instead of paying a small fortune for drywall, a coat of black paint by a professional can smooth over all the unpleasantness. This black paint covering gives off an industrial feel that can work these days. Complete the look with corrugated metal siding and black blinds or window coverings. If you have a door leading into the basement, paint it black as well to tie it all together. 
Basement ceilings are known for having yellowed water stains as well as other spots that have randomly shown up over time. Black paint does amazingly well at concealing blemishes and discoloration.
Black Ceiling Paint 
Just like white paint, black ceiling paint has endless different shades to consider. Depending on the lighting and furniture, black can pull in surrounding shades, changing its appearance. Some black hues can appear more navy while others are grayer. The trick to discovering the right black is all in the undertones. Simply check out the other colors on the color strip and see if they are in keeping with your vision. Black is merely a dark version of some other color. Natural light helps showcase these undertones so study perspective black tones in different lighting to make the best choice. 
Another very important factor in determining the best black paint lies in the finish. High gloss paints add an element of sophistication and glamour but are harder to get looking perfect. Surfaces need to be smooth and blemish-free for glossy paints to look their best. Flat or Matte finishes soak up the light instead of reflecting it, creating an intimate, warm feel. A satin sheen meets flat and high gloss in the middle and gives off just the right amount of light and luster.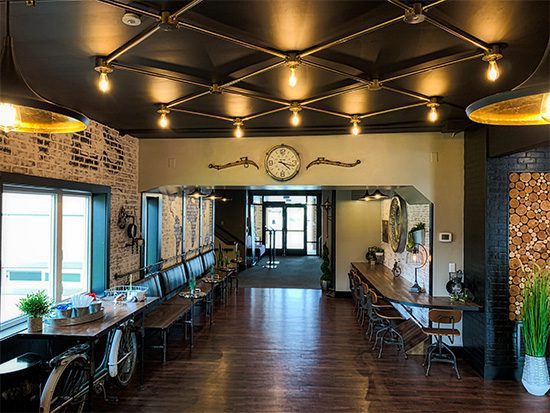 How To Paint a Black Ceiling 
Painting your ceiling black is virtually no different than painting it any other traditional color. The same technique, skill, and tools are required. But, there are a few things to consider to ensure a successful outcome. Darker colors aren't as forgiving! 
Pick The Proper Paint Sheen or Finish 
Pay attention to the light in the room you will be painting and the quality or state your ceiling is currently in. Both of these factors will help you determine what sheen will look best. Typically, a lower sheen paint works best for black ceilings. Stick with matte, eggshell, or at most, a satin finish for black ceilings. You don't want too much reflection from a higher gloss paint. The flatter sheens also hide blemishes and imperfections ceilings tend to have. 
Consider The Drying Time 
Darker paints are less forgiving when it comes to blending and roller marks. Don't make painting with black or other dark colors a one-man show. Your team will need to work quickly. Once your edging has started to dry, it'll be much harder to make it look fluid and cohesive with the main body of the ceiling or wall. Try your best to blend quickly when it comes to cutting in around walls and rolling your ceiling. 
If you have beautiful beams, crown molding, or other details in or around your ceiling, we recommend you hire a skilled professional. If your lines aren't clean, with black paint there's no hiding it. Painting professionals know how to create the perfect lines and edges even on the most intricate spaces. 
Black Ceiling Paint Design Ideas 
Some of you may be skeptical about the idea of painting your ceiling black. Well, rest assured, black ceiling paint is being used in all kinds of decorative manner. Here are some of the current trends utilizing black, and other dark colors for ceilings. 
Black Ceiling White Walls 
Black and white will always be a classic combo. No matter what style or trend you're going for, black and white have the versatility to capture it. Whether you love modern farmhouse, contemporary, or are drawn to an elegant look, you can't go wrong with black and white. Soft white paint, furniture, and accents are the obvious pairing match for black ceiling paint. The white creates a beautiful balance against the bold black. 
You may not typically think of painting the ceiling of your child's room black, but black can be a surprisingly creative choice. While black can add a modern flair or give sophistication and elegance, it can also be super fun. Black can be the perfect backdrop for a sky full of stars. You can create a glow-in-the-dark solar system for the child that is obsessed with outer space or Star Wars.
When your little one grows older and is ready to transition into something less childlike, the black ceiling presents several other options. Pick a light fixture or chandelier that fits your teen's personality and it will really pop against the black ceiling. Incorporate the black into a car or sports motif or add Italian twinkle lights and bold bright wall color for your trendy teen.
Homes with open floor plans are popping up everywhere. This design makes a home that would normally feel small, appear large and spacious. Everyone wants a home that has room to roam freely in. Without walls and hallways cutting the home into pieces, light is free to flow. Even though people love open floor plans, it can be difficult for homeowners to add their own style. This is where black ceilings can shine. Try painting a division of space on your ceiling to partition your ceiling without actually losing any openness or flow. 
Are You a Risk-Taker? 
Using black paint in any variation in your home is risky and bold. Black isn't usually the most obvious or first choice for most homeowners. That certainly seems to be changing. If you're open to the idea of being bold with paint, then feel safe moving forward with black. People that maintain a classy, elegant style of sophistication are also primed for black.
Accentuating Architectural Elements 
If you happen to be lucky enough to have defining architectural elements in your ceiling, black is the perfect way to showcase them. Whether you have wooden beams, crown molding, or skylights, applying black paint will create depth and emphasize the details. Utilize the bold look of white pieces or beams against the black background to really make a statement. A certified paint professional may need to be called in to handle ornate details and ensure quality. You don't want a shotty paint job to taint or play down these beautiful design pieces.
Conclusion on How to Use Black Ceiling Paint
If you're looking into a paint project involving black paint or have questions concerning another painting project, give PaintRite Pros a call. Our team of experienced painting professionals, along with our creative design consultants, go above and beyond other paint companies. Our residential interior painters even do repairs on things like loose floorboards, nail cracks, and patchwork. Whether you're looking to renovate your home or give it a color update, new paint can change a lot. We are ready to tackle any paint job in Sacramento, so you don't have to! We serve the entire area including Roseville, Elk Grove, Stockton, and more! If you need your kitchen cabinets as well, we can do that for you too! Hablamos Espanol tambien!