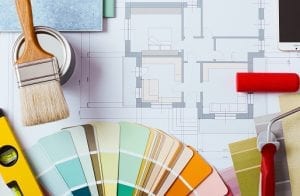 Looking for the best house painter in the Sacramento area? PaintRite Pros is the only painting company you need to call. Our dedication to customer service and passion for an excellent paint job make us the right choice for your home. We offer interior and exterior painting, cabinet and detail work painting, and paint services for HOAs and other commercial properties. We handle everything from prepping the space for paint to final touch-ups to everything in between. This includes: repairing dry rot, fixing loose boards and nails, cleaning the walls, detailed work on cabinets and crown moldings, and pressure washing exteriors (for homes built after 1978) as necessary. Whatever your painting needs, we are the experts who can help.
Number One for Painting Services
If you've checked out our reviews, then you know that PaintRite Pros is the best house painter in Sacramento. When you call our office, we will schedule an appointment to come to your house for a free estimate. While some companies offer estimates based on pictures, we like to see the project first-hand so we can give a thorough quote for the scope of work needed. Our crews are professional and experienced; we often can complete an interior or exterior paint job within a few days. All of the clean-up will be handled by our employees, so you don't have to worry about dust, stray paint, or leftover tools. When we are finished, all that's left is a stellar paint job.
We work vigorously to be the best house painter business in Sacramento County. Our painting company has been locally endorsed by The Dave Ramsey Show and we continue to get rave reviews from our customers. We consider it a privilege to serve so many people in the area, including homeowners in Elk Grove, Sacramento, Rocklin, Roseville, Folsom, and Rancho Cordova. PaintRite Pros looks forward to working with you.
[/column]