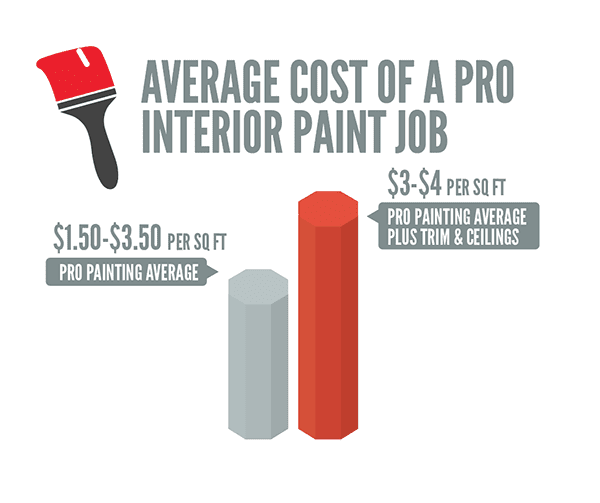 There are several aspects that contribute to determining the cost to paint the interior of a house. Obviously, factors such as square footage, quality of paint, ceiling height, and ease of access need to be considered. But the biggest factor when it comes to determining interior painting cost will be if you decide to tackle the project yourself or decide to hire a professional painting company. In this post, we'll give you an idea of interior painting costs for different types of residences as well as how to save money during the process. 
If you need the interior of your home painted and would like a professional to do it for you in Sacramento, we'll give you a free estimate! We serve the entire Sacramento area including Folsom, Dixon, Stockton, and El Dorado County.
Do You Paint Walls or Trim First?
Interior Painting Cost per square foot 
In general, the cost to paint a home's interior is based on the size and layout of your home. On average, the cost to paint the interior of a home is between $1 to $3 per square foot. The cost goes up to around $4.50 per square foot if you're including walls, ceilings, and trim. If your home has walls taller than 10 feet, the cost per square foot can increase by $0.57 to $1.05. However, keep in mind that this is the price estimate when hiring a professional. The cost will be substantially lower if you are planning on a DIY project. 
The cost to paint the interior of a house in Sacramento, CA is typically in the range of $2-$4.70 per square foot. That doesn't include materials. For a 12 x 14 foot room, it'll cost you somewhere between $1,200 and $2,900.
Cost of DIY Compared to Hiring a Professional 
If you're planning on DIY interior house painting there are a few things to know beforehand to ensure a successful outcome. You will most definitely pay more when hiring out the job. However, a professional will do the job right. Painting projects also take up quite a bit of time. So while hiring a painting company may cost more, it may be well worth it in the long run. Below is a list of things to consider if you are planning a DIY project. 
Find the square footage of the actual surface you'll be painting.

This is done by measuring each individual wall. Multiply the length of the surface by the height of the wall. Once you get your total, divide that number by 350 to determine how many gallons you'll need.

Calculate the paint product cost. When calculating paint costs, it's always best to factor in two coats of paint. This is especially true if you're making a drastic color change.
Take the number of gallons and multiply it by 1.7 for the second coat. Applying a second coat typically requires 30% less paint than was used for the first coat.
Multiply the number of paint gallons calculated by the price per gallon of paint for your project.

Remember that you can expect to pay around $30 to $50 per gallon if you're buying your paint from a local Sacramento big box store like Home Depot. You'll pay closer to $50 to $75 per gallon for the higher-quality paints from Benjamin Moore or Sherwin Williams. 

Factor in the cost of materials.

DIY projects require you to purchase all the necessary paint supplies out of your own pocket. While a variety of materials can be reused, they still add a considerable amount of cost to your project. 
Materials & Tools Needed: 
Drop Sheets
Painter's Tape
Buckets
Paint Brushes
Paint Rollers
Masking Paper
Sanding Pads
Scrapers
Drywall Compound
Extension Poles
Ladders
Cost to Paint a 1500 Square Foot Interior 
The cost to paint an average home that is approximately 1500 square feet will roughly cost around $1500 to $2500. This is based on calculating that the average cost to paint the interior of a home runs between $1 to $3 per square foot. 
Painting Labor Cost for Interior 
Interior painting labor costs tend to vary depending on what part of the United States you live in. Local painting companies set the standard for each individual area. For example, it may cost substantially more to hire a painting company in an area where the housing market is booming and contractors can charge a higher rate due to demand. 
Interior Painting Costs by Housing Type
While the majority of U.S. citizens live in single-family homes, about a quarter of households live in multifamily housing such as condominiums and apartments, With that said, let's discuss the specific painting costs for the different types of housing: 
Interior Apartment Painting 
On average, the cost to paint the interior of an apartment will be much lower than a home because the square footage is normally much lower. Painting an apartment can cost you somewhere between $1900 and $4500 on the high end. It's always a good idea to check with your apartment management to be aware of any building requirements that are recommended before you start painting. 
Interior Condo Painting 
Your typical condominium usually has more square footage than an apartment which means you can expect to pay more to have one painted. The vaulted ceilings and taller walls will also increase the cost. Again, be sure to cut through all the red tape and check with building procedures before starting any interior work. 
Interior House Painting 
In addition to any patchwork or prep of walls that needs to be addressed, ease of access to the painted surface and wall height are the next biggest contributors to cost. Total square footage is also a dominant factor. So, let's break down your typical home, room by room so you know what to expect before hiring a painting contractor. 
Painting Cost by Type of Room 
Because of the basic box shape of a bedroom, they are considered one of the easiest rooms to paint. Easy usually means it isn't as hard on your pocketbook either. If your room has extensive detailed trim or crown molding and is on the larger size, plan on paying more. Typically, you'll pay somewhere between $350 and $650 to have a bedroom painted. 
While painting your kitchen can be time-consuming because of all the edges and appliances to paint around, they are on the lower end of the spectrum when it comes to cost. Most of the wall space is taken up by your backsplash and cabinets, meaning you won't use much in the way of paint.
The average cost to paint a kitchen island is somewhere between $400 – $800. 
Most dining and living rooms aren't too expensive when it comes to painting costs. They usually have furniture that is easy to move and not a lot of intricacies to paint around. These medium-sized rooms will generally cost you anywhere from $450-$850 to have painted by a professional. 
Bathrooms are similar to kitchens when it comes to painting. Much of their wall space is already taken up with tile, your shower, or large mirrors. Trim is easy to access and smaller square footage will always make bathroom paint jobs less expensive. Because bathrooms are usually one of the easiest painting jobs to do, it will run you somewhere around $250-$600.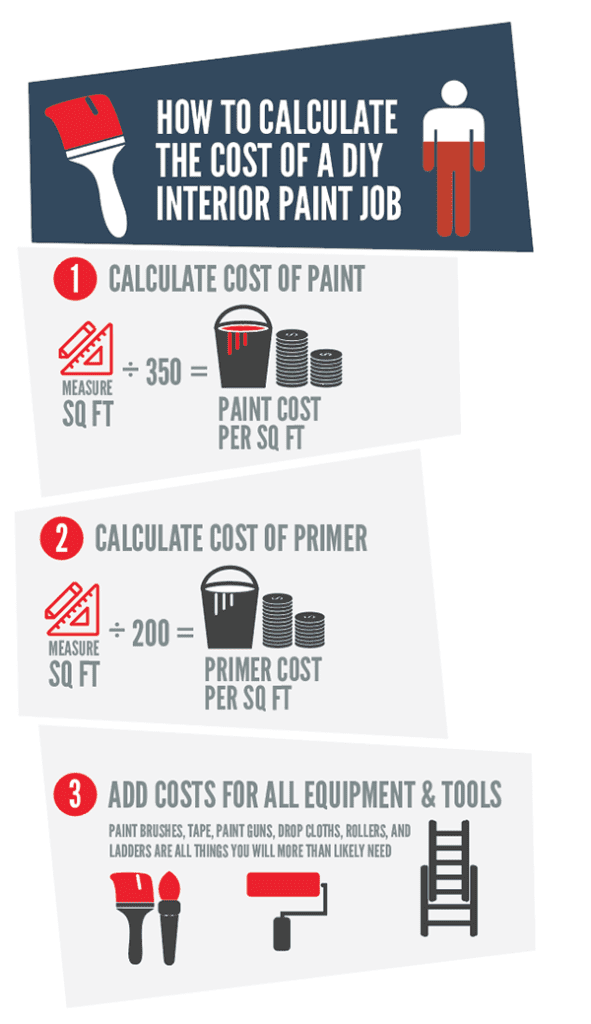 How to Save Money on Interior Painting 
Hire a Professional Painter in the Winter Months 
Many people aren't aware that the time of year you choose to paint the interior of your home can greatly impact the overall cost of the job. Hiring a professional painting company in the off-season can save you quite a bit of money. During the colder months in California when business is slow and fewer exterior paint jobs are available, companies are more competitive with their prices. If you can wait to book your interior painting work between November and February, you'll save a considerable amount on your upgrade. 
What is the Cost to Paint the Interior of a House Conclusion
In a nutshell, hiring a painting contractor will always cost you more than doing the job yourself. But professionals are experts at what they do and know all the tricks of the trade. If you are looking for an experienced painting company in the Sacramento, Elk Grove area, contact PaintRite Pros. Our skilled team of painters have an excellent reputation with interior, exterior, and commercial painting services. Spend your precious time during the holidays with your family and friends and let us take care of your interior painting needs.