If you're looking to spruce up the interior of your home, you likely have the question, "what is paint sheen." In painting terms, paint sheen is the glossiness of a paint finish. Glossy paints are shiny and reflect more light, while on flat paints most of the light diffuses in a range of angles. 
What are the different paint sheens?
Gloss

 

Semigloss

 

Satin

 

Eggshell

 

Flat or matte

 
Most brands of paint come in several sheens. Gloss sheens have the highest light-reflective characteristics. Next would be semigloss sheens followed by satin and eggshell which are low luster sheens. Lastly, you have flat or matte finishes. 
BEST INTERIOR PAINT COLORS FOR SELLING A HOUSE

How do I know what paint sheen to use?
There's a rule of thumb to follow when picking paint sheens. The higher the sheen, the higher the shine. The higher the shine the more durable the paint. High gloss sheens are a good choice for areas that sticky fingers will touch such as cabinets, trim, and doors. But high gloss is too much shine for most interior walls. 
Satin finishes are the most commonly used paint for interior walls. They are easier to clean than flat and eggshell paints, which makes them a great choice for high-traffic areas like kitchens, bathrooms, family rooms, and playrooms.  
 While both eggshell and satin are a little less durable, they are both excellent choices for your living room areas. Spills and drips can be easily cleaned or wiped off with a rag.  
You should think about using flat or matte sheens on walls or areas that tend to have a lot of bumps, scratches, or holes because it can hide these blemishes and imperfections really well.  
Best Sheen for painting a brick fireplace
When painting a brick fireplace, you will want to start by using an indoor acrylic-latex blend paint. The paint needs to be able to withstand high temperatures. As far as what sheen to go with, eggshell is a lower sheen and gives off a warm glow. It is easy to apply and is great at concealing imperfections. Also, purchase a paint roller designed for textured surfaces. This will help cover the likely rough and porous surface of the brick.  
Which paint sheen is best for painting bathrooms?
Satin is the best go-to sheen for bathrooms. It is more durable and shinier than eggshell, which makes it easier for you to keep clean. Use it for walls, ceilings, and even the trim, because many satin finishes are tougher than they once were. Paints with shinier finishes are the best choice for bathroom spaces that are notorious for large amounts of moisture and potential mold and mildew. A common mistake then is choosing a flat finish for your bathroom walls. 
What paint sheen works best for kitchen cabinets?
Most people find satin or semi-gloss paint works best for kitchen cabinets or any woodwork in your kitchen. This will give your cabinets a soft sheen that doesn't look flat. It is also very resistant to scrubbing, making it the perfect choice. Easy maintenance is essential for high-touch areas like cabinets.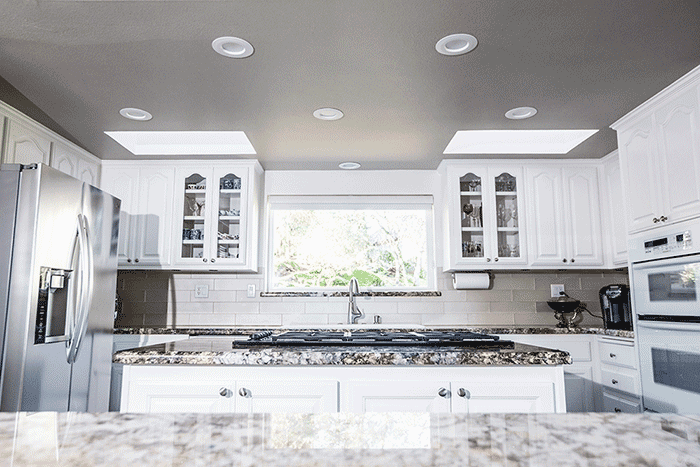 The most used sheen of interior paint
So which sheen is used most often when it comes to interior paint overall? Semi-gloss and eggshell are the most popular. They are a good choice for walls, woodwork, doors, and hallways and meet in the middle with a moderate sheen that isn't too extreme. 
Conclusion
Hopefully, you now have a better understanding of the different paint sheen options that are available and know when best to use them. If you live in the Sacramento area and find yourself needing any help with painting projects, feel free to contact us at PaintRite Pros. We will give you a free quote and help in any way we can. Not only do we have employees who speak Spanish fluently but we also serve the entire area including Dixon, Roseville, Vineyard, Laguna, Woodland, and more!
HOW OFTEN SHOULD YOU REPAINT INTERIOR WALLS?