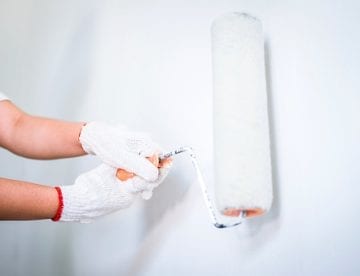 The short answer to this question is "not necessarily," and the long answer is, of course, much longer. In California, every contractor needs to have a license in order to legally work on a home or business. This holds true for some other states, like Alaska and Louisiana, but others have looser requirements (only jobs over a certain monetary amount require a license) or no requirements whatsoever.
This is why it's important to know your local laws and regulations. Depending on where you live, you may be hiring a contractor that's not required to be licensed by the state or local board. Working with unlicensed contractors leaves you open to a whole host of issues, ranging from sub-par work to a lack of support if you have to file a payment dispute. If your state or city requires licensing for painting contractors, it's illegal for a contractor to work on your home without it. Always be sure to check up on any contractor you're considering to be sure that they have an active license on file.
To better understand why a licensed contractor is preferable to an unlicensed one, we'll go over the requirements for licensing in California. Other states may have similar registration practices, or none at all.
In California, all contractors must take and pass a license examination. It's required if they haven't passed the test in the last five years, or if they haven't served for the same qualification for which they're applying. Contractors that have been doing the work they're licensed for over the past five years and are in good standing are exempt from this examination. The exam may be waived in some cases, but they're outlined very clearly in the Business and Professions Code.
As you can see, this requirement acts as a filter to ensure that contractors working in the state are dedicated to doing quality work and always keeping on top of their industry's requirements. A failure to pass the test indicates that they're not working to an appropriate standard, and if they haven't been working in their advertised field in the last five years, you may want to question whether they have the experience necessary to do the job well. Your contractor should state clearly on their website or materials whether they're licensed, and you should be able to double-check to make sure the license is currently active.
Another benefit of working with a licensed individual or business is that you have a fallback if the job doesn't work out or if you have to file a dispute. For an unlicensed individual, you may end up losing your payment or having to go to civil court.
Do you have other questions about licensing? Let us know and we'll be happy to answer!
When people see the potential price tag for hiring professional painters to paint their home, they may balk. Exterior paint jobs can climb into the thousands, while interior painting can often cost $500 or so per room, depending on the size and scope of the job. For most people, that's not an easy chunk of money to part with, so it's understandable to consider whether you can save some cash by doing it yourself rather than hiring a professional company to paint your home.
However, it's definitely worth your while to consider the benefits of hiring a professional to get the job done. We'll go over those considerations below.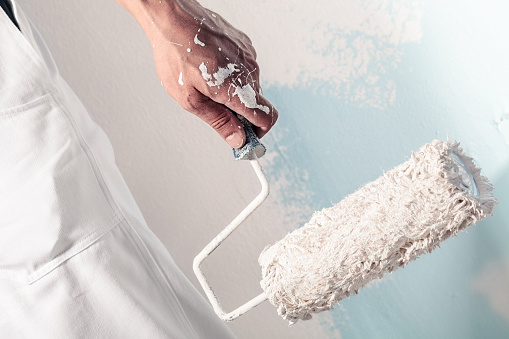 Time Investment
There's no way to get around the fact that painting a home takes time. Especially for exterior house painting, you can expect to lose multiple evenings and weekends to getting your home prepped, sanded, primed, painted, and finished. Some people really enjoy home improvement projects and won't be deterred by giving up their free time to paint, but many others just don't have the time or desire to do the job. That's okay! Professional painters will not only do the job if you don't have the time, they'll be able to do it more quickly, both because they're more practiced and because they usually work with a team of people.
Cost
It may seem easier and more cost-effective to buy paint yourself and do your own labor, but you should still sit down and do the math. You might save some money buying paint yourself, but you have to be sure you're buying the right paint for the job, and you may also have to invest in primer, finishes, and tools. Exterior paint is pricier than interior paint, and those costs can start to rack up. Your labor might be free to you, but you may still want to consider if it's worth it. We mentioned the time investment above, so remember that a big part of the cost of hiring a professional is in the labor they perform. Is it worth it to you to do the labor yourself? You may find that when you break down the cost, it's not such a sticker shock to hire the pros.
Scope of the Job
Some paint jobs are relatively simple. You may want to repaint a small bedroom or touch up a few doorframes. No big deal, right? Probably not. Smaller projects are perfect for DIY projects. It's when you start to get into the bigger jobs, like painting the exterior, where it gets more complicated. Unlike interior painting where you can simply paint over old paint, exterior painting requires a lot more prep. You have to clean, remove old paint, and sand down the surface. You may also need to remove and replace old caulk and treat door and window frames to keep water out, and that's all before the first coat of new paint goes on. For bigger projects, professional painters have experience and tools that you don't, allowing them to do the job right the first time and avoid any costly mistakes.
Clean Work
Inexperienced painters can definitely do a good job with a painting project, but you may also find out it's a lot tougher than it looks. Have you ever been in a home where the lines aren't clean, or the paint is lumpy or patchy in places? That's a mark of inexperience, and it can be avoided by working with a professional. The pros can easily match any paint color, and they'll be able to touch up trim easily to give everything a crisp, uniform look. If you'd like any creative work done, like an accent wall or stencil, you may want to leave it to a professional painter.
Keep these things in mind when you're deciding whether hiring a pro is worth it. Have questions? Call us anytime!
In order to give your house painter the best base for exterior paint, you'll want to do some prep before they arrive. Doing so will ensure your paint job lasts longer and looks better. It's well worth your while to get outside for some preparation before the painters arrive!
Your first step is cleaning. A clean surface will ensure a smooth, even paint job that stays where it's supposed to. The best way to wash off a season's worth of dirt and buildup, as well as reach hard-to-reach places, is with a pressure washer. If you don't own one, you may be able to borrow one from a neighbor or rent one nearby for a reasonable fee. You should always be careful using one — the highly pressurized water is excellent for removing built up dirt, but can actually damage wood or break windows if the pressure's too high. Or hurt anyone who gets in the way of the water! Make sure you follow the instructions carefully and use appropriate cleaning solutions if you choose to.
Give yourself plenty of time to watch the house and let it dry — at least 24 hours, or more in cool weather. Once your "canvas" is nice and clean, do a quick visual inspection to note any areas where there's loose paint. Using a wiry brush or palette knife, brush or scrape of flaking paint. You don't have to get it all off, the main goal is to create a nice even surface for the new paint so it's not lumpy. Once you've removed the flakey paint, you can use a sand block or plain sandpaper to sand the surface smooth if it's still uneven. Old caulk can also cause issues for a new coat of paint, so be sure to keep an eye out for it and remove it. Just remember that whatever you remove, you should replace! Failing to replace removed caulk could result in water damage, especially around doors and windows.
If there are any damaged areas of the home, particularly windows, you should repair or tape them before paint is applied. Any caulk, putty, or glaze that's applied anywhere should be given ample time to dry, or cure if necessary.
Discuss with your painters whether they'll be bringing their own primer or if they expect you to prime. Most professionals will be happy to do the priming work and bring drop cloths to protect the area surrounding your home and any flowers or vegetation you have. For any particular spots where you don't want people walking due to sensitive plants, be sure to communicate clearly with your contractors beforehand. It's also helpful to tie back tree branches, bushes, or shrubs that usually brush up against the house so that the painters don't have to move them out of the way and possibly break them.
Your house is now clean and ready for a fresh new coat of paint! To keep your home looking its best, it's a good idea to have it repainted every 4-6 years, but for some areas you can go as long as 10 or 15 before the house starts showing true signs of wear. Regular exterior cleaning and repair will also help with water damage, pest problems, mildew, and wood rot. It's definitely worth it to keep your house painted and maintained.
Need a painter? You're in luck: it's what we do best! Drop us a line anytime.