Here at PaintRite Pros we focus on quality of service for our customers. When we started to notice a trend in questions about how to paint Honey Oak cabinets we decided to write it down and spread the word.
---
Why Honey Oak?
Honey Oak cabinets and stair railings became a trend in the 90's  and 2000's when Honey Oak and white counter tops or back-splash pairing was very popular in homes. With the housing booms throughout the years, honey oak cabinetry is still in houses today and many are asking how can I update my home? Color trends are constantly changing and painting Honey Oak can be a tedious task for a novice.
---
1. Do you have a crew that focus just on cabinets?
2. Do you use a rack system for cabinets?
3. Where will your workers spray the cabinets?
4. Do you offer a warranty for the cabinets?
5. Are you going to clear coat the cabinets?
6. How long will my kitchen be tied up?
7. What is your procedure? 
Asking your painting contractor these questions will make all the difference. Without proper education from the contractor and also from the customer there can be a case of peeling cabinets and confusion on why it happened.
---
What Can Happen If Not Painted Correctly?
Honey Oak can begin to peel off if painted incorrectly. The reason painting companies are failing at painting honey oak is because in all of California, all paint is water-based. There is a conversion varnish, but it cannot be used on top of lacquer. Honey Oak cabinets have a clear varnish or lacquer top coat which is why water-based paint will not adhere to it.
There are many ways to properly paint Honey Oak, but here at PaintRite Pros we know of a guaranteed * time tested process.
---
How to Paint Honey Oak
Step 1. All cabinet doors come off and marked individually.Step 2. All drawers come off and marked individually.
Step 2. Thoroughly clean cabinets on both sides with a TSP cleaner (TSP de-glosses cabinets and removes all grease particles. Making sure there will be no reaction between the paint and cabinet).
Step 3. Build a chamber around the styles of cabinets in order to be sprayed (not rolled or brushed).
Step 4. Take cabinet doors and place in a rack system to be sprayed in the customer's garage. The reason for a rack system is for the convenience of the customer. This is a much more condensed environment, out of the way, quicker, and the preferred method. If the customer does not want the wood in the garage the cabinet doors and drawers could also be taken to shop. Downside: paint takes at least 10 business days to be transferred. We at PaintRite Pros do not like to travel with the wood if they are not fully cured.
Doesn't your family enjoy eating together?
We will get your kitchens back ASAP
Step 5. Wet sand cabinets and drawers with TSP.
Step 6. Spray 2 coats of shellac primer on both sides of the doors and cabinets. Shellac helps bite down on the cabinets to ensure that our paint will adhere.
Step 7. Sand cabinets and drawers to ensure a smoother finish. Note: This will not get rid of all the oak grains (in some cases). The shellac does help fill in most grains if you prefer not to see a little grain.
Step 8. 2 coats of Dura poxy.
Step 9. After drying, put everything back together.
Step 10. Happy customer with a warranty.
Your honey oak will be painted RIGHT with

PAINTRITE PROS

!
1. Grey dominant with pop of bold furniture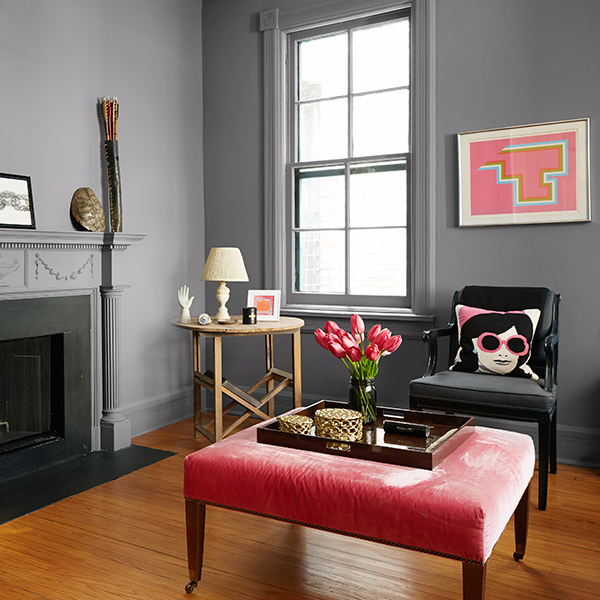 By using grey on all four sides of a room gives more opportunity to use furniture to make the statement, rather than the walls. This can be fun, since furniture shopping tends to be easier than paint shopping for many.
2. Purples

The color purple is becoming a trendy interior paint because you can pair it with jewel tones, white furniture, or grey accessories. This color is very versatile and has become a very popular color the last few years.
3. Blues
This color just like purple is becoming very versatile with jewel, neutral, and pastels. Being versatile gives the home owner an easier experience to decorate the room. You can use a dark navy, a light blue, or even a teal color.
4. Geometric patterns
Geometric patterns bring life to your room and also creativity. Be sure to prep before anything. Prepping is the most important step for painting geometric shapes. Have your idea ready as well as the supplies needed to start painting.
PaintRite Pros can help guide you in the trendy direction and spruce up your interior home. Give us a call or email today.
1.Do not go "MATCH" overboard
We recommend not to match all your furniture and accessories in the room to match the paint color on the walls. This can be harsh on the eyes and just not appealing. Nothing catches your eye if the whole room is the same color. Try having furniture that is lighter or darker than the wall color to make the room more appealing and bring attention to the right objects.
2. Do not forget about the FINISH
Try to remember while picking out colors what you want the finished color to look like, glossy or matte. This depends on the color, typically darker colors look better with a glossy finish and lighter with a matte finish. Ask you local painting contractor or ask for help at your local paint store to get pointers and advice.
3. Do not rely on paint chips or swatches
Use the paint tester. Paint your walls and see what the color actually looks like throughout the day with various light hitting it. Sometimes the color is not what is expected once a shadow hits the color or you realize the color is darker than expected.
For more tips and advice call PaintRite Pros for all your painting needs for interior or exterior. You can check out our reviews on Angie's List, Yelp, and the Better Business Bureau.